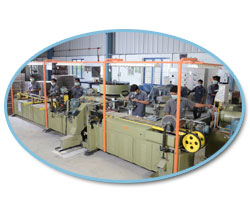 Accura Weldrods Kovai Pvt Ltd recently expanded their plant to accommodate and fulfil the ever growing demand for their products. With a total of more than 12000 square feet of manufacturing facility, located at the prime industrial location, Accura Weldrods Kovai Pvt Ltd also built the plant environment friendly by abiding various norms laid by local pollution control board.
Accura Weldrods Kovai Pvt Ltd believes that Safety of the employees and public, protection of their as well as Organization's assets is paramount. The Organization shall constantly endeavour to achieve and maintain high standards of Safety in its operation.
Manufacturing Facility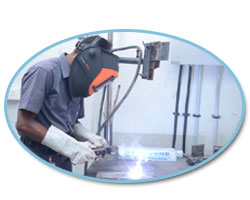 Accura Weldrods Kovai Pvt Ltd has the Modern and Environment friendly manufacturing facility and is perfected to the top notch industrial standards like fire and safety norms, pollution control norms and human resource management system. Accura Weldrods' manufacturing facility is equipped with machineries such as various capacity dry mixers, cutting machine, extruders, wire feeders, reclamation machines, ovens, sealing and strapping machines. Our finished products are shrink packed to protect them from environment. Our facility is well planned for material movement and is sectioned into Raw material storage, Dry mixer area, Wet mixer area, Wire cutting area, Extruder and Reclamation area, Oven unit, Packaging area and Product storage area. Apart from this factory unit has separate place for employee lounge, staff quarters and emergency exits and Safe Zones.
At our manufacturing facility, we follow strict environment friendly conduct and have plenty of greeneries surrounding our premises. Our facility is always kept litter free and has dedicated supervisors to take care of the tidiness of the plant at all times. We have waste management system which enables us to reduce and re-use the wastes that are produced during manufacturing process.
Since our facility is located just one mile from national highway (NH 47), and ten miles from the main city of Coimbatore, with quick access to all means of transit facility, we are never far from our suppliers and clients.
Testing lab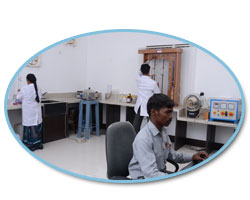 Our Product Testing Facility is well equipped with latest and recommended testing equipment used in welding electrode industry. Our Chemical Lab has perfectly calibrated equipment like Dhona Balance, Carbon and Sulphur Apparatus, Barometer, Hot Plate, Muffule Furnace, Hot Air Oven and Hydrometer. Our Mechanical Lab is equipped with Universal Testing Machine, Impact Testing Machine, Rockwell hardness tester, Digital temperature indicator, Digital timer, micro meter, Vernier callipers, Measuring scale and Microscope.